The Perfume Festival at Liberty
From March 23rd 2017 to April 2nd 2017, the London department store moves with the time, with rare perfume brands. This festival happens on the fourth floorn of the store. In view of this event, a pop-up exhibition and a serie of conferences have been planned fo the occasion. This happening takes place just after the national day of the perfume in London.
The perfume festival echoes the the philosophy of the actors of the Liberty perfume department, the famous London department store. They highlight the less known heroes of the rare fragrance brands.Furthermore, the perfume department team has unearthed a various number of vintage flacons which will be on sale during the event.
More, Liberty will take part in the « Perfume : A Sensory Journey Trough Contemporary Scent « exhibition, from June 27th 2017 to September 17th 2017 at the Somer House.

The exhibition
6 collages by the artist Ernest Artillo
Trough these collages, Ernest Artillo reveals the following brands , which are on sale in a limited edition.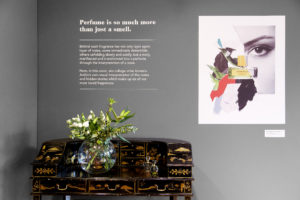 Debaser from D.S.& Durga
Dear Polly from Wilhem Perfumery
Gypsy Water from Byredo
Te Noir from Le Labo
Portrait of a Lady from Frederic Malle
Fleur d'oranger from Serge Lutens
Pierre Dinand's iconic flacons exhibition
Due to Michael Edwards's initiative, 30 flacons by Pierre Dinand will be shown during this temporary exhibition. One will be able to see from Opium 1077 to the new Castelbajac 2017, admiring also Rochas, Dior, Armani, Clavin Klein, Fendi, Lauder, Dolce Gabbana, Paco Rabanne Jean-Duriez, L'Occitane,Azzaro, Vivienne Westwood, Caron… It will take place on March 30th till April 2nd 2017.
The conferences of the Perfume Festival
On March 27th 2017, from 6pm to 8pm, in the Heritage on 3 floor
This conference will be dedicated to the processes of the best perfumes of the candles that are exclusive to Liberty.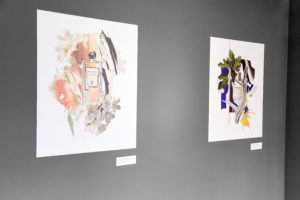 On March 29th 2017 from 6pmto 8pm at the Heritage on 3 floor

Conversation with Lizzie Ostrom from Odette Toilette website and Claire Catterall, the Somerset House curator.
On April 1st from 11am to1pm at the pop-up event at the fourth floor of Liberty
Discussion between the most famous designer, Pierre Dinand and Jan Ahlgreen, the creator of his own brand, Wilhem Perfumery
All the events of this Perfume Festival will be £10 per admission. But due to a limited number of entries, the first there will first served ! So to reserve your tickets, contact +44 20 77 34 12 34