Do you know who is Ella K ?
Today, the niche perfume brands are pure madness ! Yet, are they many brands founded by a woman, and more by a perfumer-creator ? Up to now, one can mention Patricia de Nicholaï, Olivia Giacobetti with Iunx, or also Lynn Harris with Perfume H. But now, I suggest to discover Sonia Constant, perfumer at Givaudan, and founder of the brand Ella K.
It's in the smart and minute boutique of Ella K, situated at the Palais Royal, that I met Sonia Constant. This boutique has been designed as an elegant and sleek discovery cabinet.That is why Patrick Norguet, the architect wanted to enhance each of Ella K fragrances. For that reason, he chose up grade materials, such as marble and wood, in order to support these olfactive stories, on the way to become legends !
Why Ella K ?
Ella K is a wink to Ella Maillard… Apart from the fact that my husband, Olivier Gallardo, met Anneliesse Hollemann, an independent photographer who inherited Ella Maillard's chalet, I have always been fascinated by adventurous women. » More, each one achieved their dreams, and bodly stood up for their conviction. » tells Sonia. Besides Ella Maillard, there was Alexandra David-Neel Amélia Earhart and Karen Blixen, who let themselves be guided by their intuition and their passion. Therefore, Sonia wanted to pay a tribute to those marvellous souls.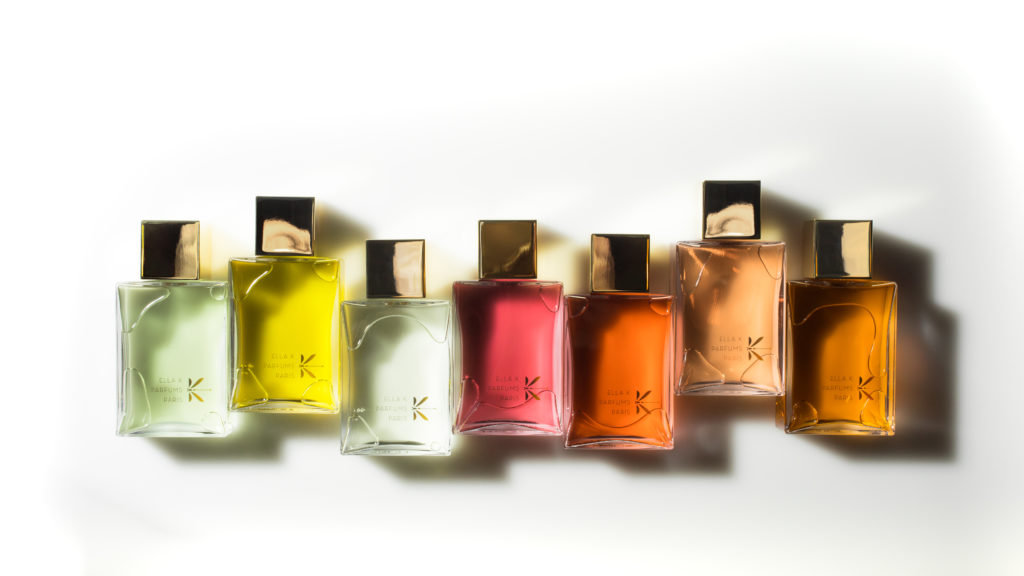 And what about the K ? It's a wink to Sonia's grandfather ! A brave, strong minded, passionate man who taught her these admirable values. Furthermore, Ella K travels around the globe in search of beauty, rare scenery and true emotions.
7 perfumes, 7 voyages…
Ella K is an invitation to all the women, in order to identify themselves and express themselves through 7 fragrances, which are nothing else but 7 different voyages.. In addition, it's from their emotions, souvenirs, from trips that Sonia and her husband did, that these perfumes arose.
In fact, in the heart of each of these perfumes, you will be able to find an iconic ingredient of the country it comes from, along with a souvenir, such as the iris for the Baiser deFlorence, the water flowers for Pluie sur Ha Long, the Spider lily for Brumes de Khao-Sok, the Scarlett rose for Lettre de Pushkar, the vetiver for Epupa mon Amour… Each time, the ingredient is magnified with a palette of rare ingredients and of the highest quality synthetic molecules.
Finally, each of Ella K perfumes represents a voyage.More, what striked me most, is that each one tells a story of an olcfactive richness. What I want to say, is that each time I smell them, I am able to clearly smell either each ingredient separately or together. Although, that they are beautiful, I admit, I have a preference for some. Even if its destination is not as exotic…
I appreciate « Baiser de Florence ». It's soft and mysterious iris incense accord is superb. « Pluie sur Ha Long takes you to those garden in the spring, wiith famous or not so famous flowers, filled with water, and revived by a sweet and tangy hint of the rhubarb. Then, I would end up by "Lettre de Pushkar", an invitation to a lovely trip to India. I literally dive into an armful of spices, supported by oud, which is there but never too invasive. But to conclude, I must add that all are elegant and surprisingly tactiles.
All is detail and poetry
At Ella K, everything is poetic and about detail.So, fascinated by the 20s and the 30s, Sonia naturally has drawn on the Art Deco heritage… Such details inspired from this period are present on the geometrical and minimalist shapes of the bottles. Without forgetting the gold brass cap which enhances the deep strong colour of the fragrances.
Futhermore, the concern about the detail remains, and Sonia with Olivier have surrounded themselves with the best artisans and friends to come and help them in their adventure.
That is how Senjiro Nakata, an artist based in Kyoto, has illustrated each destination, with a typical drawing of the Ubiyo-e. By the way, this artistic japonese movement of the Edo period (1603-1868) inspired greatly the impressionists.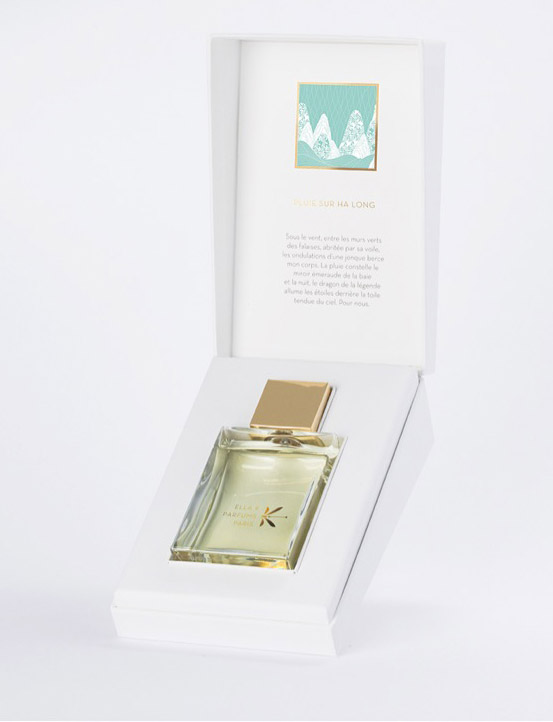 On the other hand, Waltersperger, the glass-maker of 100 years of excellency, was chosen to make the Ella K bottle. This exclusive bottle is hand crafted and polished at the glass factory in Normandy.
Finally, the Ella K engravings were done at Stern,founded in 1836 and famous for its excellency. Beyond the beauty of each detail, as I said, Ella K is very poetic. Each box contains a poem, written by one of Sonia's friend. A poem that takes you just as well towards a real voyage than a motionless one.
Let's trace the dragonfly
Have you noticed the Ella K spiritual animal was a dragonfly ? Well yes, the dragonfly is a symbol of victory and of memory in Japan. It is also A country that cherishes Sonia.
In effect, the dragonfly decorates usually the samourai's armour( the katana guard, the helmets… or sometimes the family coat of arms or a clan. But most of it all, it symbolizes strength,courage, even though victory. One of the main reasons of this connecting factor to the samourais, is due to the fact that the dragonfly has thid characteristic of always go forward and never turn back !!. If by chance, he reverses, he always faces you, just like the samourai who faces continously his enemy, without never turning his back in whatever the situation is !
Who is Sonia ?
As a small child, on of the first words to be pronounced by Sonia happened to be « flowers » !…
Who knows if it was not a premonitary sign to her vocation ? The fact remains that her career path to become a perfumer was not a long calm river ! After her degree at ISIPCA and a summer internship, then the door at Givaudan was open ! As a matter of fact ,to be able to enter the Givaudan school took … some time. There, olivier Pêcheux, perfumer at Givaudan and Christine Nagel perfumer today at Hermes, were her mentors.
First of all, Sonia's passion resides into the research of accords. In fine, it's just as much the idea at the start that the finishing of a perfume that seduce her ! Really, they are two very important steps ! Nevertheless, she likes to immerse herself into the creator's universe so to deliver it better in olfactive notes.
In the end, Sonia has always been sure to want create one day, her own brand. She was longing to become an artistic director and a perfumer as well, so to share her story and sense of value, Sonia said to me during my interview. However, as she likes to underline, this adventure would not have been possible, without the help and contribution of her husband, Olivier Gagliardi !