A tribute to Giorgia Martone
At the end of January, a young and great of Lady of the perfume world passed away, accidentally… The perfume world is sad and distraught. She was a true passionate, in charge of the creation development of ICR, who worked closely with the french perfumers : indeed chocked, the french perfumery world has remained silent. Anyway, luckily, a number of french perfumers have not forgotten her and have shared with me, their memories. I dedicate this tribute to Ambra, her sister, and her tight families love.
Just before giving the flow to the perfumers, here are a few words about her professional career. After a degree in economics at Bocconi, in Milan along with a specialization in Design & Fashion management, Giorgia, will do her apprenticeship "Raw materials, the History of Perfume & Fragrances" in New York with Maurice Roucel, Master Perfumer at Symrise. Then she will work at ITF US, a subsidiary of IFT Italy, part of ICR family group. Back to Milan, Giorgia Martone, will be in charge of the perfume development of the portfolio of the italian brands (Ferré, Blumarine, Dsquared2, Trussardi, Pomelato) assigned by Roberto Martone, the ICR President. Eventually, with her sister Ambra, they developed Marvin and LabSolue, 2 niche brands, launched a first boutique within the Magna Pars Hotel in Milan (located on the ICR previous factory) and the LabSolue boutique in Rome, last year. It is of course without mentioning she was also a member of Administration Board of the executive of the ICR family firm, Industrie Cosmetiche Riunite.
Giorgia Martone, a  charismatic and free woman
During the obituary, Ambra, her sister underlined how Giorgia was alternately her best friend, her confident, her advicer, her travel companion, her associate and her children godmother. More that Giorgia was free, loyal, strong, confident, enthusiastic and totally disinterested. All in all, with always a smile on her face and always a positive state of mind.
You will of course understand that they inseparable… A family bond, given by her parents which will make them unique and above all complementary, will say Ambra. While the one was extravert and creative, the other was more introvert and rational. In the end, they formed a striking pair !
The hearing of the perfumers
While we exchanged ideas during our creation sessions, there was always a real dialogue. More, beyond her love for beautiful ingredients of high quality, Giorgia, understood us and respected our perfumer professions, tells me Karine Dubreuil, perfumer creator for Vox Profumi (her own structure). Therefore, real discussions always took form between us. In fact, Karine worked on various fragrances for Cavalli and Ferré.
On her part, Véronique Nyberg, senior perfumer at Mane, will mention her generosity and her humility. Those qualities  were also, the ones, that are present in the perfumes, she created for the portfolio of the italian brands, for ICR, and for whom she was responsible, along with the LabSolue.
On her side, Julie Massé, perfumer at Mane, with Christine Nagel, now perfumer at Hermes, won her first win, while working with Georgia. It is for her an unforgettable memory ! …It was a perfume for Blumarine, around a note of Bellini !
All the perfumers are unanimous to put forward her warmth, her kindness, her passion and her italien hospitality…. Emilie Copperman ( Symrise ) , Pierre Gueros ( Symrise ), Nathalie Lorson (Firmenich ) Daphné Bugey (Firmenich ) Alberto Morillas ( Firmenich ) Karine Dubreuil (Vox Profumi ), Valérie Nyberg (Mane ) Julie Massé (Mane ) Yann Vasnier (Givaudan ), and Maurice Roussel will even say  « Only passionate  people can passionate me ! »
A creator with her sister, Ambra of the LabSolue
In fact, the perfume brand LabSolue  was imagined and designed as a four-handed creation. To their image,  the LabSolue is a combination of tradition and innovation, within a talented decoration, also well orderly as a perfume laboratory. More, just as a library, each fragrance tells a different story, classified in volumes, with the ingredients, playing a  major part. All of them took birth from an idea, an intuition, or an inspiration with which Georgia kept a special link.
« They are signed perfumes, with a strong character,and a simple writing. «  remembers Yann Vasnier, perfumer at Givaudan. They are mainly balm, spicy, and  rich notes around the Oliban, the Styrax, the Labdanum, the Cedar, the Santolina, and the sweet gum..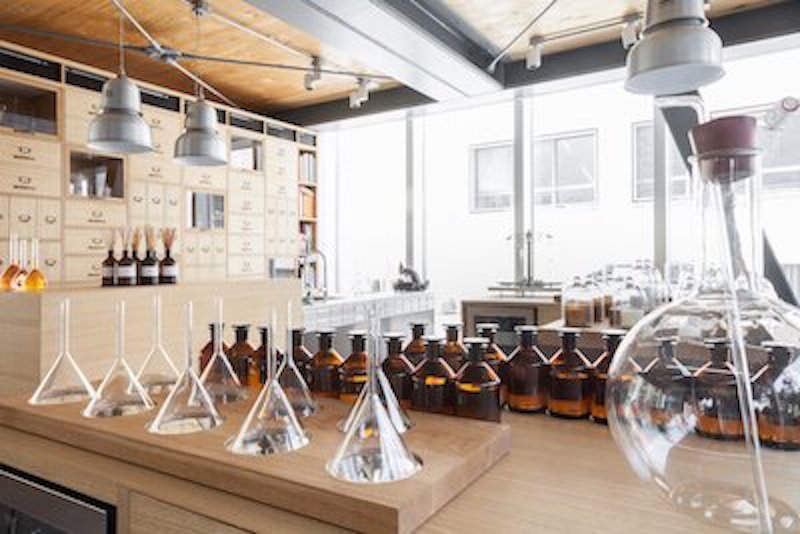 As Ambra will remind it « You knew how to share your emotions and pay attention to others. You had the courage to remain yourself and fight for what you believed in. » Yes, she liked to be avant-garde. It's exactly, what Karine Dubreuil said, when ahead of her time, Georgia used to include very creative and extraordinary notes into the development of the fragrances, intended for the italien brands.
LabSolue echoes with her passion for reading. Incidentally, we can  find it in her book, the Grammatica dei Profumi, published by the Gribaudo Editions. It was a project, close to her heart, for which Veronique Nyberg gave her advice on the illustration plates. For that matter, Veronique will tell us, how Georgia never forgot to include every actors, in her projects.
Another avant-garde approach, when the two sisters built the Magna Pars Suites, a perfume hotel, having within a perfume boutique ! A story on perfume, right from the source up to the finished goods . All this, without missing out to mention the possibility of creating one's own frgarance, and taste an olfactive aperitif, initiated by Georgia and Ambra. While Yann Vasnier had the brillant idea, to design a drinkable perfume, for the launch of the Magna Pars Suites hotel
Georgia a lover of beautiful ingredients
They all underlined her love for beautiful ingredients of high quality. As for Karine Dubreuil, she was fond of lovely woody ones,along with the orientals. While for Yann Vasnier, it was the woods such as  with the amyris, the cedar, the sandalwood, and the petit grain with the Arancio Amaro. In fact, Amyris and Fiore d'Amencio happen to be the last two fragrances, that she did with Georgia.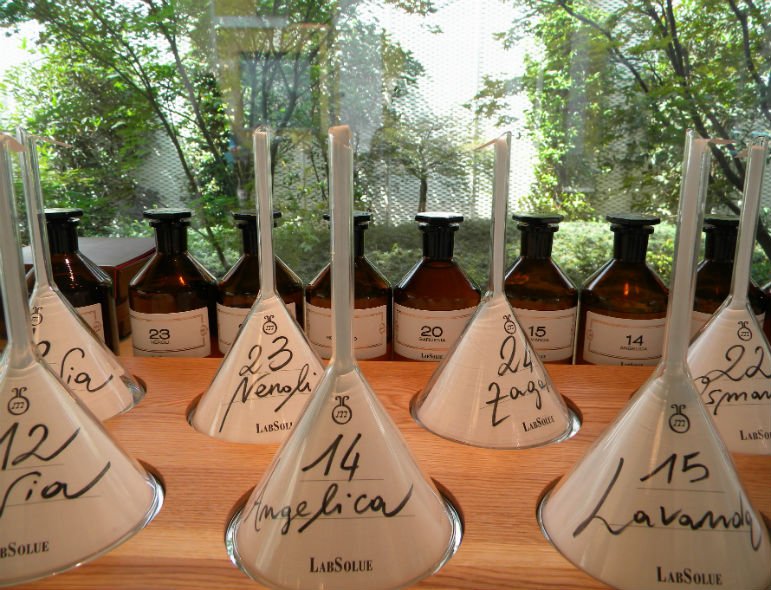 Finally ; Georgia took hold of her life with both hands ! Actually,  outside her love for perfume, she liked Paris for it's architecture, the energy, the good food, photography ,of course her thorough bred horse, Bel Fio, without forgetting her nephews and niece and their unforgettable pyjamas parties !