Where to drink a Pierre Marcolini hot chocolate ?
By a cold weather or during a rest for the greedy ones, Pierre Marcolini had the genius idea of creating a chocolate bar with chocolate drinks and cocoa infusions. The artist Lauren Sanguinetti has produced the chocolate maker's universe so to create a spot between dream and modernity at the Atrium of the Printemps Paris store. You have, up to the 6th of May 2017, to go and taste a good hot chocolate with a pastry. Beware, The Atrium of Printemps store is located at the basement of the fashion store.
Once at the Atrium, on one side you have the boutique, and on the other the bar decorated as a contemporary workshop, where the chromium-plated and the waxed concrete show off, cleverly the Pierre Marcolini 's chocolate creations. Among a fairy tale and colourful atmosphere,one can see projection videos from the windows, which put forward the art of the gesture and know-how of the chocolate maker.
Pierre Marcolini chocolates a la carte
Two hot chocolates
Belle à Croquer
A hot chocolate, with vanilla from Madagascar and a cloud of fresh cream.
Chocolat Glacé et framboise Fraîche
Iced milk chocolate wih vanilla from Madagascar and fresh rasberry purée
Two cocoa infusions
Belle de nuit
Hot nfusion with cocoa beans and jasmin flower
Belle de Jour
Iced infusion with coca beans and fresh ginger
A suprise
Spritz
Iced infusion with cocoa beans shells, Aperol and Prosecco
My chocolate impressions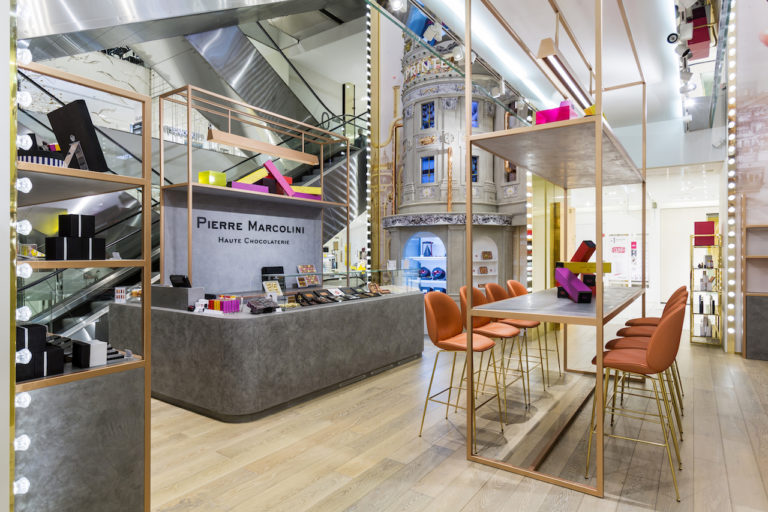 I do not regret the experience, asI had received, a few years ago cocoa infusions to test… and was rather disappointed, the reason being that I did not infuse them properly ! While at the bar, it was perfect ! The smell of the cocoa assaults the nose when smelling the cold infusion, just before tasting it. On the palate, it is a chocolate without the sugar, along with a flavour enhanced by the ginger. I prefered the cold infusion which allows to taste better. I only tasted the hot infusion with vanilla and cream. Finally, the Spritz is definately to be tasted, as its bitsterness is surprising and most interesting.
The prices : count on 10 euros for the drinks, except for th Spritz 15 euros. Take away or to tasted on the spot.
For more information
:
Bar à chocolat by Pierre Marcolini january 12th to may 6th 2017