A hazelnut coffee at Nespresso
Each Thursday of the week, gourmet workshops are held ,at the Nespresso boutique, between two pm till four pm. At the head, it is either Romain or Cedric, two passionate of coffee, that are happy to share and transmit with you their passion for coffee. Are you ready to go for a gourmet recipe !…Today it is a hazelnut coffee.
Pure Origins at Nespresso
Romain introduces you with the Nespresso Pure Origins. One must know that each workshop, in the Nespresso boutiques, is conducted on a specific theme. Today, it will be on the Pure Origins. But what does it mean ? It is about coffee of pure origin. They are typical vintage from their homeland. There are four of them.
Indryia from India, a mixture of arabica with a touch of robustaand its spicy notes.
Rosabaya from Columbia, an arabica with well balanced fruity notes.
Bukeela from Ethiopa wth floral notes.
Dulsao from Bresil, with fruity notes. It's a coffee which has been dried with its mucilage, this white envelope which surrounds the coffee beans. The latter gives a honey and interesting note.
The hazelnut coffee recipe
We make this gourmet coffee with the Dulsao coffee : its honey notes match well with the hazelnut. Romain advises to do a short expresso in order to leave room for the foam of the milk.
The foam of the milk is done with the help of the aerccino, which is delicous, even for me, who does nor like milk. It is fantastic as this foam does not taste of milk ! It is a foam that is chewed. On incorporates into the milk, a soup spoon of hazelnut syrup.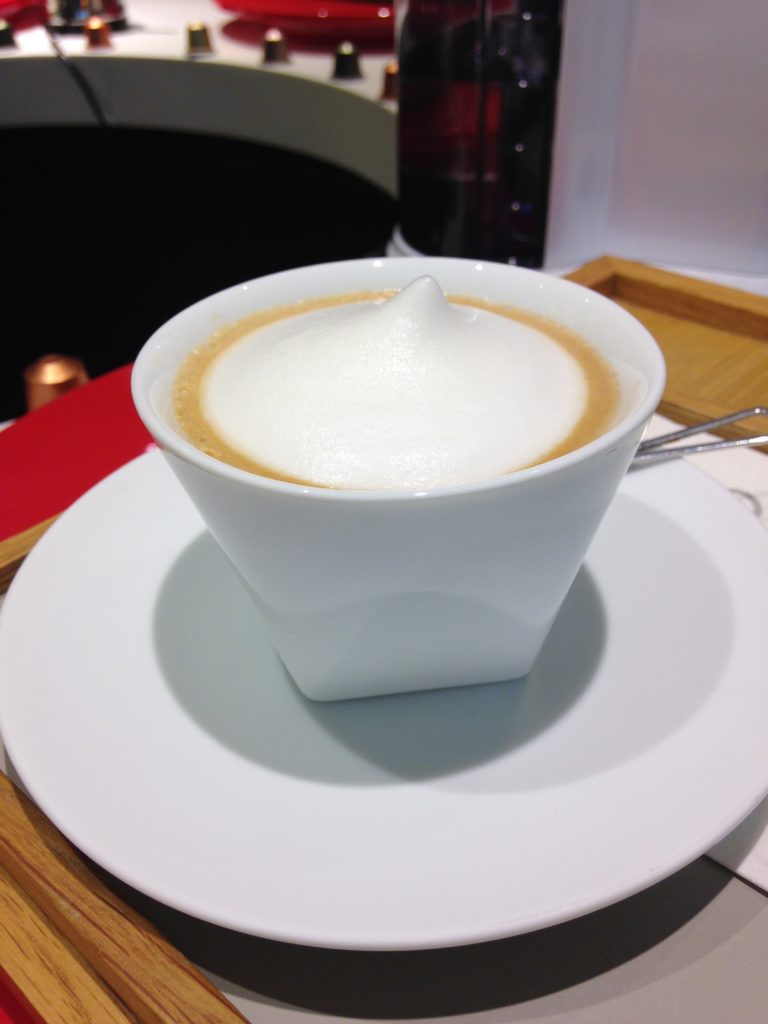 Then, one places a coffee spoon of chocolate paste onto which is poored the expresso and,the foam of the milk. The gourmet coffee is then done.. It only needs to be tasted… Its' really delicous and a change from the usual expresso.
It' recommanded to go deep in the cup with the spoon to collect the chocolate paste ! This same desert can be done with a Voluto coffee or a Livanto.
For the Nespresso workshops, subscribe either at the boutique or on the website Nespresso.
Do not hesitate to tell me if you have been to a Nespresso workshop and if you find them interesting.