Have you heard about Brontë Liqueur
There is no sheer chance but only rendez-vous. Sir James Aykroyd had a rendez-vous at Asuncion, in Paraguay where he found himself face to face with a bottle of Brontë liqueur.What it a sheer chance or pure coincidence ? One must know that his great grandfather, Sir James Roberts, a Yorkshire man, bought the Haworth parsonage, which has become today the Brontê sisters museum.
On the occasion of the 2017 New Year, I thought that this unusual and unique story would amuse you and take you to Yorkshire, my county of birth !… For the bicentenary of Charlotte Brontë's birth, a special edition has been published.
Why a Brontë liqueur ?
It all begins, in 1960, during a business trip that Sir James Aykroyd was doing, in Paraguay, for the promotion of the Scottish Black&White Buchanan wisky. It is then, that he finds himself in front the Brontë Liqueur bottle ! As a true English gentleman, it is while having his ritual evening drink before dinner, « it's time for a drink » that he discovers the existence of this Brontë liqueur, enclosed in a small ceramic carafe.
What was his amazement ! It is just there that he finds out, 6400 miles away from home, that this mysterious beverage comes from a Leeds company where it is manufactured and distributed. Though, it will be only forty years later, that Sir James Aykroyd will be able to acquire the precious liqueur, along with the recipe. Just a normal return of fate….
The Brontë sisters story goes on within the Aykroyd family…
You must know that Sir James Aykroyd offers a small donation for every Brontê liqueur bottle sold to the Brontë sisters Society.
What is the fragrance of this liqueur ?
It's about a mulberry and sloe accord on a wild honey base. This tends to echoe the rough atmosphere of the famous windswept Yorkshire moors. Just there where the « the Wuthering Heights ».operate. This liqueur contains also a touch of jasmin… The adding of the black pepper and cinnamon provides an acidulous taste.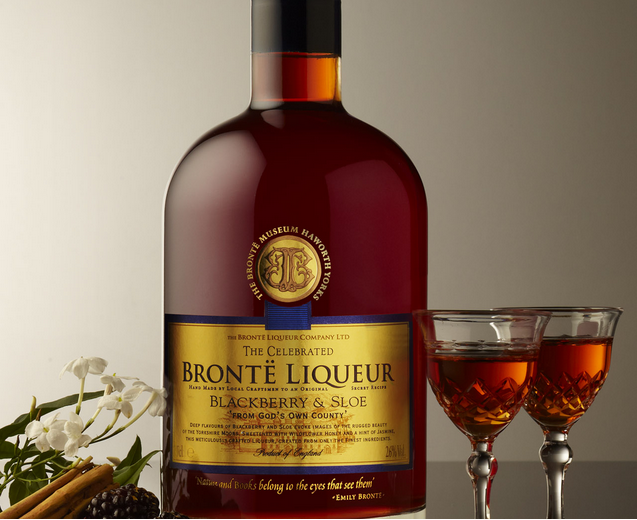 This new beverage will provide an other dimension to the numerous existing cocktails.It is recommanded as a conventional aperitif but also with champagne so to make a Royal Brontë !
Who is Sir James Aykroyd ?
Considering his 40 years of experience, as Director of the Buchanan Company and as well of Martini & Rossi, further more, President of Speyside Distilliries and a major shareholder of the company, it has allowed him to start and launch this new adventure !
One must not forget to mention also, that he appreciates his Brontë liqueur with champagne and Jane Eyre is his favorite among the Brontë sisters books.
All of this to be drunk withe moderation of course…