Cœur d'Ylang by Comptoir Sud Pacifique
Comptoir Sud Pacifique takes you onto a journey among fragrances, ever since 1974. Born from the imagination of Josée and Pierre Fournier, this couple of passionates of perfume and travel, goes on with Valérie Pianelli. Their search for unusual and natural raw materials lies as their common theme. For the beginning of this year, it 's right into the heart of the ylang ylang that we are aiming to.
Cœur d'Ylang from Comptoir Sud Pacifique
It's about a trip to the heart of luminous, white flowers such as the ylang ylang and the frangipani, from the Comores.
A lovely story around Comptoir Sud Pacifique
Did you know Comptoir Sud Pacifique's emblem was « a motu » ? In fact, it alone, sums up the universe and the values of the brand. It's after a trip to Polynesia by the founders, that this lovely adventure started…. During their first stay, all their perceived impressions were set and were to become the central thread of the Comptoir Sud Pacifique fragrances. More, afll the perfumes were to tell exotic and refined stories. So naturally, it was obvious that the logo of the brand became « a motu », this mythical polynesian archipelago !
The olfactive path
It's story is short but intense. Once the freshness and the happiness of the bergamot is passed, it is the powerful and sensual duet of the ylang ylang along with the frangipani that responds. These two are powerful but nevertheless remain elegant ! These sunshiny flowers embrace feminity, holidays so to take you onto those superb beaches, Before leaving you with the balm of Peru and the vanilla, the two conforting, reassuring notes that every one knows.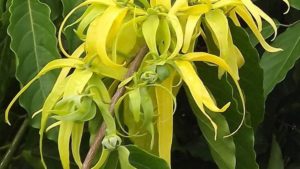 My olfactive impression
The perfumer-creator
Thomas Fontaine from Pallida
Olfactive family
floral
Year of creation
2016
The other perfumes of this collection
Jasmin, Neroli, Jasmin Poudré, Aoha, Tiaré.
Recommended time table to wear it !
All the year round specially when the moral is slow.
Tell us which is your Comptoir Sud Pacifique fragrances in a comment below ?