Atelier Cologne opens in London
Promises are made to be kept ! After San Francisco, the new Atelier Cologne boutique is in London, situated in the district of Covent Garden. This district, in the heart of London, has been for a long time associated to the fruit and vegetable markets and the 13 theaters that surround it. It is in the company of the Atelier Colofne founder, Christophen Cervasel, that we pursue our visit.
Why London ?
"We love the heart of London, the town is very welcoming. More, we have been attracted by the idea of opening in Covent Garden, where the boutiques selling spices are situated just by the fashion boutiques" says Chritophe Cervasel, the founder of Atelier Cologne with his wife Sylvie Ganter.
In fact, the boutque is located under the central hall, by Kiehl's, the Occitane, and Penhaligon's, right opposite from Jaimie Oliver, the famous English chef. And the brand is already present at Selfridges and Harrods. «This boutique is our Christmas present ! » Chritophe tells me, so happy to be, at last in London.
Let's enter the boutique
The boutique is rather small… but it hides a basement five times bigger. It is used as a storing place, to start with, but eventually the Atelier Cologne sales force will have their training courses. Then, it be open to the public for workshops. And why not even open for private events.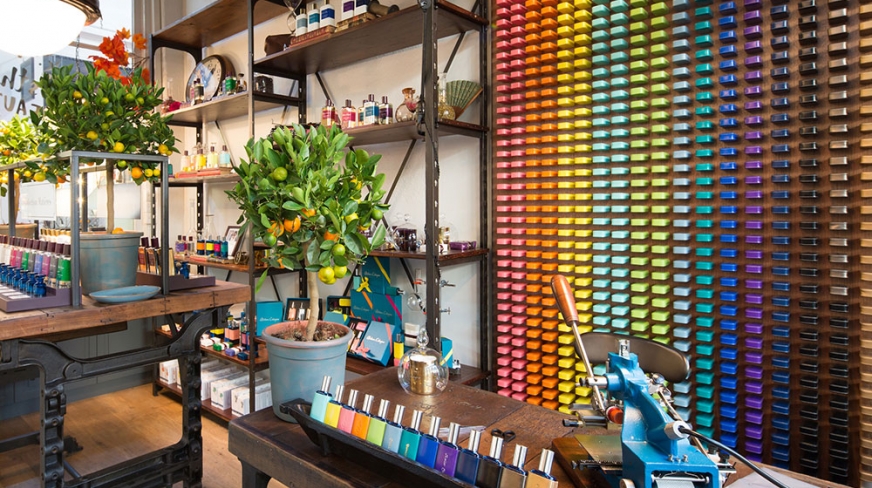 For the time being, the Atelier Cologne boutique is filled with lovely boxes, available in 15 colours, each matching the colour of the leather cases containing the 30 ml flacons. You will be welcome by a spanish manager, who is passionate and who is extremely fond of Orange Sanguine.
The new London address is at 11 Market Building...