A unique olfactive trip to the Museum with Essences and Art
Color and perfume, shape and perfume, art and perfume… Abstract art, figurative art, Imressionsit art and perfume…Numerous similarities are often evoked. More precisely, do you think that there is a link between Bella au col blanc from Marc Chagall and Botttega Veneta, or more la Femme aux pigeons from Pablo Picasso and Clair de musc from Serge Lutens ? So, then, follow me, I will tell you about my original visit with Essences et art.
Let's take the direction to Pompidou Museum : Works of art and Perfumes ?
At seven pm, on Wednesday, I joined a small group in front of the Pompidou Museum, invited to dialog with a work of art and a perfume, as said, the purpose of my visit !… Catherine Werber, an expert in perfume and Gwenael Bareau, the guide speaker are the two partners having initiated this intriguing experience. Both passionate and captivating, they decided to take us into their world. Ready for the voyage !
Equipped with ear-phones, so to hear better, we look for the permanent collections of the Pompidou Museum, and we stop in front of Bella au col blanc from Marc Chagall.
Let's follow Gwenael first…
So, this is how Gwenael invites us to follow her into the story of the painting : such a fascinating story that I felt as if I was entering into this work of art… by feeling the atmosphere of the period, meeting the artist, so to understand better the painting. Thanks to Gwenael, the story of the work of art was alive, full of emotions,that were either jolly or serious. In the end I was captivated and driven by her enthusiasm and simplicity.
Then, we smell fragrances with Catherine
Then, Catherine was able to come onto the stage and tell us the olfactive story of the chosen fragrance, in order to become in coherence with the painting. After some brief explanations, for the non-initiated audience, about the construction of a fragrance along with the different olfactive families, Catherine takes us into the mystery of perfume, by sharing the emotions and ingredients present in the perfume.
Straight away afterwards, a scented pape ris handed out to us, so to bring us back to the cor of the painting ! A real and interesting exercise as just as we perceive and expressourself in of the painting, it is rewarding to sense the work of art through the perfume. Once the expanations are given, it becomes a linlk between the emotion coming out from the painting in order to join the one produced by the perfume.
Ten works of art will be shown to us : Bella au col blanc from Marc Chagall and Bottega Veneta, la femme aux pigeons from Pablo Picacco and Clair de Musc from Serge Lutens, Baigneuse from Joan Miro and Roberto Cavalli Acqua from Roberto Cavalli, Femme Debout from Alberto Giacometti and Galop from Hermès are the ones that touched me most.
Essences et Art ?
Essences et Art offers to look at a work of art differently as well as to smell and discover a fragrance in an other manner… ino, also a neutral and unpolluated surrounding, unlike most of the perfume boutiques to day. In fact, Gwenael and Catherine want to share with us their passion and show the synergy and the emotional corespondence between art and perfume.
That is why they will offer visits in museums , such as the Pompidou museum, the Orsay museum to stroll along, through the nineteen and twentieth century for the art and the XXI for the rare perfumes and the luxury brands.
A few words about Catherine and Gwanael
After her first professional life spent at Paribas, Catherine moved onto the MIPC at the Isipca. Very soon afterwards, she became interested in synaesthesia : her work-study internship at Kiotis, offering a range of cosmetics created with essential oils, her first painting exhibition where art and perfumes already present are a good example.
« We live in the century of odours, so it is interesting to create links between both arts, feel the emotion in order to perceive perfumes differently « will tell me Catherine. Today, she is project manager at Sozio, where she loves going from one project to another.
Ever since her childhood, Gwenael followed her mother to visit museums. She loved to see historical monuments. So, one will not be surprised that to become a guide-speaker was her desire and revelation, specially after listening a passionate guide, at the age of 14, at Carcassonne. Then, after realizing her capacity in making people travel through telling them fabulous stories, she definitely decided to do it as a job.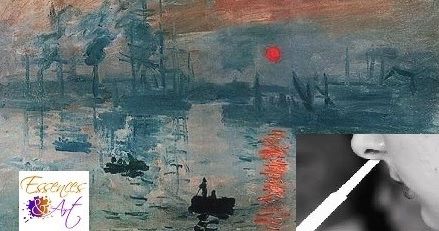 After a diploma of history of art at the Sorbonne, and at the Louvre art school , she specialized in Egyptian archeology but dedicates herself today to the nineteenth century. Her main joy is to open her visitors eyes, take them to learn to look and discover small details. One can meet her at the Opera Garnier, at the Orsay museum and the Balzac House, a mong others. Concerning perfume, odours of cakes are the ones that fill her with joy !…
Only one thing is clear, they are both passionate, love to share and transmit. So, if now I have convinced you, you only have book a ticket for the next visit so to experience yourself to an olfactive and artistic discovery with Essences and Art ! Do not forget to leave your impressions by a message in the commentary below.