8 new portraits of perfume women in the spotlight for 2021
Here are four new portraits of perfume women in the spotlight, for the Woman's week. They are all fantastic, generous, authentic, and all just as much passionate. Each one promote perfume, with the envy of changing the rules of the game, in the beautiful industry. Yes, it is in fact an industry and no more a craftsmanship. However, they are women who are eager to have another approach of the perfume. Hazard or coincidence, I unveil two Isabelle and two Karine…
Isabelle Prin Du Lys "Serena Galini"
Right from the age of 5, she rode bareback on a twenty years old mare. It is not surprising , as everybody in her family rides, even her strong-minded grandmother who is passionate of attelage. In fact, she offered her, her first made-to-measure pair of riding-boots which will be the source of an olfactive chock. "Just as I opened the box, a whole universe of odours came to me. The odour of the new leather mingled with my grandmother's, who smelt of Bandit from Piguet, a chypre leather" says Isabelle to me.
From now on, this odour of the leather will continue, even  will purchase her… As a matter of fact, it is not a surprise, if Isabelle appreciates Germaine Cellier's creations, who was devoted to leather perfumes, and Anna Zworykina, the russian perfumer, "a the cow-boy of the leather, creating leathery waters, totally out of the ordinary" she says.
So, still in the same state of mind, Isabelle will grow up in the country with this grandmother, organizing the making of potions, elixirs, and syrups, that were, of course all natural. She will be educated in this environment of the nature, in a quasi absolute freedom. Then, Isabelle will attend the Lausanne University, so to learn aromatherapy, phytotherapy, sophrology, chinese medecine and neuropsychology. More, she will practice, and give training courses to medical and pharmaceutical laboratories .
Later, her life will take another turn when Cédric Bischetti, the President of  "Makers for change" will ask her to take up a challenge : so to create  a perfume for the sixtieth anniversary of the Treaty of Rome.
As for this out of the ordinary perfumer-creator, "perfume contains life. therefore, it comes from the essence of life , and can only be natural, because it echoes to its own birth." will explain to Isabelle to me. That is why a different perfume  goes with each moment of life, for her. More, without counting that at the heart of  the prana, the vital energy,  we find the inspir that we feel.
It is the path that  brings back to the perfume and beyond. Moreover, it is important to remember that the olfactive bulb is the first to appear into the embryo. An olfactive sense is of first importance, as soon as it vanishes, one looses all landmarks.
Besides her love for perfume, Isabelle dreamt of becoming a singer. Very young, she played the piano and also the organ. She listens everyday to Gabriel Fauré, Sergio Racchini, the Ave Maria from Caccini, but also electronic music and Christophe Lesuisse the DJ.
Serena Gallini, today
After the Auditorium creation, the "Serena Gallini" perfumes  will be launched,  as there is no reaon  whatsoever to stop on the way ! Supported by her two children, Nina and David, this wonderfull adventure continues ! But where the name Serena Gallini comes from ? Serenity  is it 's key message : Serena meaning serenity, and Gallini the island of happyness, an italian island, which almost disappeared. No doubt, Isabelle's perfumes bring back serenity and relief.
Auditorium does not look like any other one… It has two hearts, that is to say one floral, and the other woody, with a formula containing european endemic plants, 100% natural, created by Isabelle and Thierry Bernard, the perfumer. In fact,  Isabelle's perfumes ae not ouside the rule, but they reflect her strength and her personality, her love of authenticity, her desire to give back to fragrances respectability. So, theses perfumes are different, powerful ; with always a message. The last launch of the house, Égide is an elixir of protection, inspired from a sixteenth century love story. As a result, Antoine Lie, the independent perfumer, imagined a fragrance, all in dualities, between balsamic aromatics and leather. If you feel like knowing more about the universe of this perfume house, I recommand to go to the perfume bar, in Strasbourg. Isabelle likes quality, but also what is beautiful, and she has at heart to offer reasonable prices : that is why Serena perfumes can be sold from 10ml flacons.
She admires
GermaIne Cellier who was perfumer at Roure and the independent Anna Zworykina, a russian independant perfumer
Her fragrances at the moment
Auditorium and Égide
Karine Dubreuil "Vox Profumi"
Her last perfumes :  Ginza from Shiseido, Plume blanche from Lalique, Lalique White in Bllack for men, 004 from Bon Parfumeur.
How soon does she walks, the odour of  the fragrant flowers such as the jasmin, the rose, the lavander, but also the fig and  the fruit leaves were already part of her everyday life. Memories inherited fom italian gardens, as well the ones in Grasse, during her early days. As a matter of fact, Karine is born in Grasse
Moreover, citrus are her favorites and she uses them, without any fear into her creations. On the other hand , Karine could have been a lyric singer…. "I have lots of wrinkles from laughters and jokes ! On top, gigles and vocals have allowed me to get good crunches !" she tells me. For sure,  Karine radiates joy of life and has a vital need of laughing.
Clarity, lightness and happiness are the words that count into her creation procedure. For her, this lightness, is present in the fresh notes, while echoeing the intensity of a brillant sun. Karine is everything but manned, and she does nothing but halves.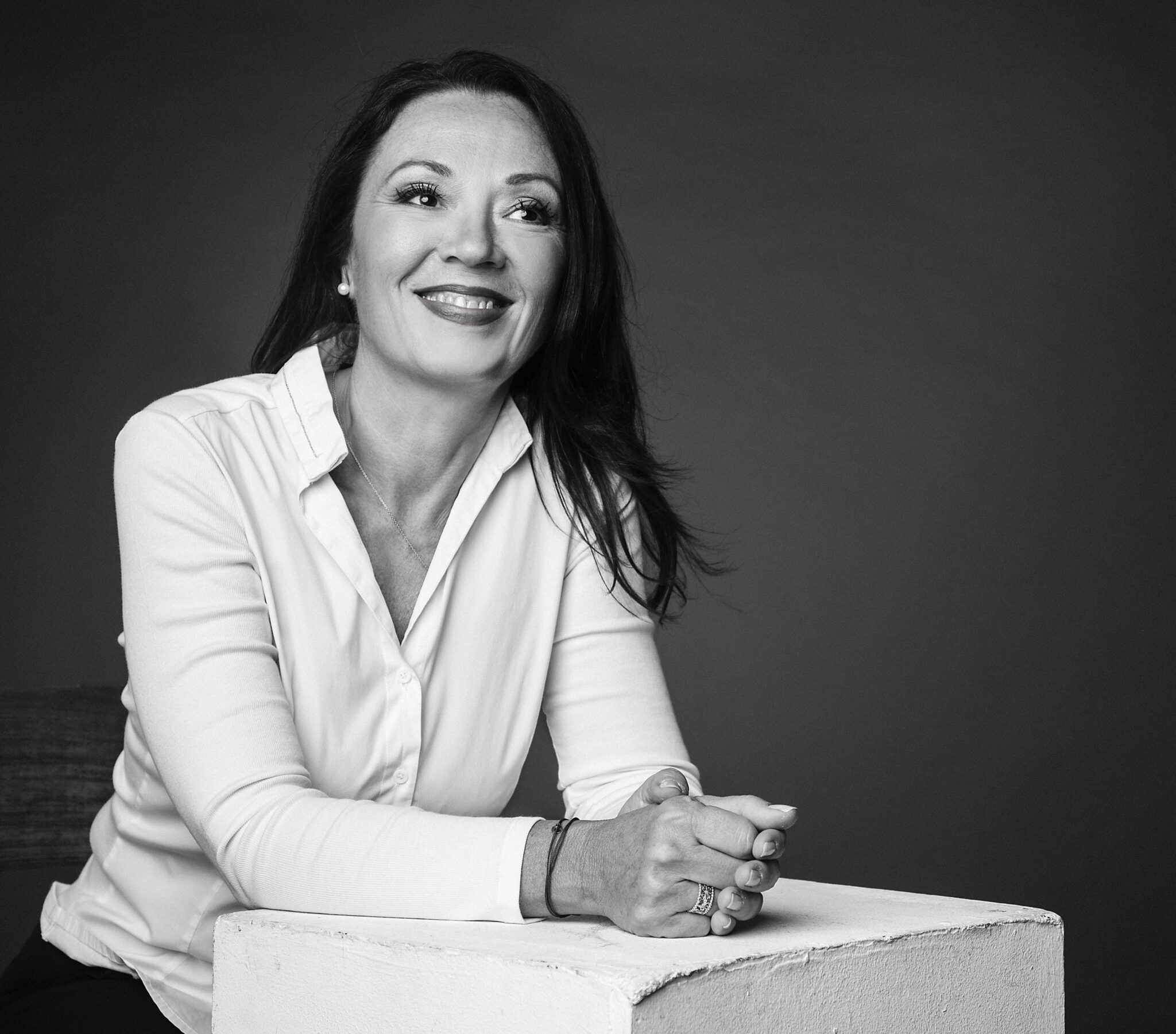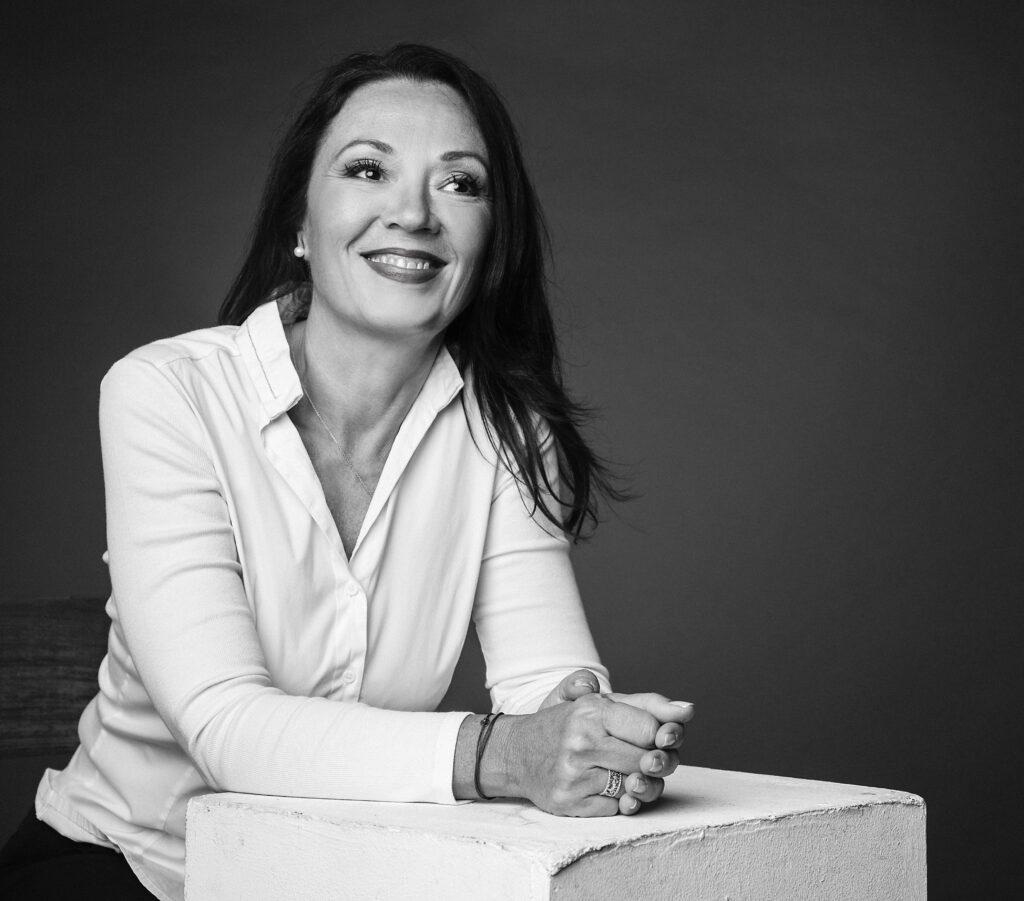 "Even into an amber or chypre note, I pursue my quest of light and joy" All within short formulas so to keep a clear stucture.She reckons that creativity induces simplicity and  legibility. "It's about finding the path where each ingredient has its purpose." In fact, one's  creative approach fluctuates between a strict method while keeping as much as possible all the spontaniousity, so to discover unique accords.
When Karine does not create, she listens to Rigoletto, Madame  Butterfly, or Tosca, Norma, Adriana Lecouvreur ; Renato Scotto's voice which adds the beauty of his voice to his theatrical play, Placido Domingo's with his spanish sensuality and his warm tone of voice are her favorites. On the other hand, Maria Callas deserves a special space.
Otherwise, in her spare time, one finds her behind the stove, because she is really an epicurean !. Nevertheless, behind this worker as an ant and a fighter, there is a young lady who takes time to admire a scenery, during long hours. Karine  is just able to enjoy life !
Vox Profumi today
As a blink of an eye, Vox Profumi has been for a few years her own creation studio. A surrounding of freedom where she can express her values and her beliefs. For her, each fragrance represents a new story doted with new encounters. It is a most important interaction which allows a better understanding, as the olfactive sense is so subjective. That is why it is necessary to be in direct contact with the clients,in order to clear out one's thought and be understood. More, the work is even easier if the two persons concerned, appreciate and respect each other.
It is a wonderful story and a women story, that Karine liked to share with the creation of Ginza, the new Shiseido fragrance : a creative design with Maïa Lernout, perfumer at Tagasako, along with a marketing development with Julie Portrat and Agnès Satin, at Takasago.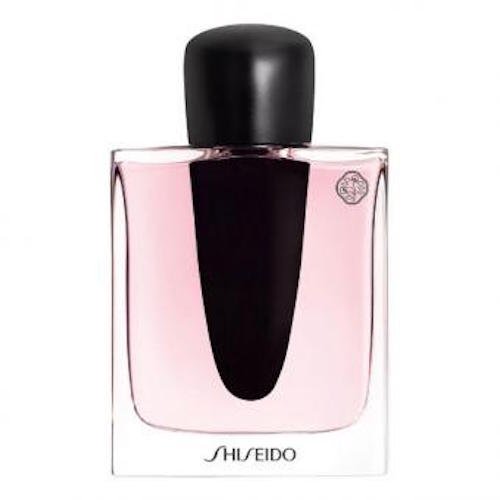 "The result of a fantastic complicity, along with friendiness and respect of our work, allowed us to create a nice floral bouquet, sharpened by the woods. Without forgetting, Constance Guisset, the flacon designer."
She admires
Annick Menardo, perfumer at Symrise for her creativity and her simple formulas ; Louise Turner at Givaudan for her precise and chiselled writing.
The perfumer's job has been for a long time the male private preserve… but it has been, luckily caught up by an increasing number of women. "The later had to impose themselves by a more creative work, in order to stand out" says Karine to me. Véra Strubi and Sandrine Groslier are among her favorites.
Her fragrances today
Senteur Fraîcheur from Eau Jeune, which reminds her carefree years, without forgetting its chypre and amber base note that she appreciates above all. Empreinte from Courrèges, a fresh and chypre frangrance.
Isabelle Gellé "The Perfumery Art School" & "Les Parfums d'Isabelle"
Isabelle Gellé is a citizen of the world… She is born in the Beaujolais, with polish, belgium, mauricious and malagasy origin. It's already a lovely voyage, that one continues with all the other countries where she lived : Africa, Great Britain, Brussells New Caledonia !. A true globe- trotter with always perfume as a red line. She, then  goes on and make us travel through the natural fragrances, she creates. You, surely, will quickly understand that her insatiable curiousity will show that the world has no frontiers !.
Nevertheless, Africa carries off the palm of affection. It is there she grew up until her teens. "Africa is an open herborisum with odours that are a mixture rather difficult to describe, but so rich. Between the spices, the wood fires, the earth, mixed with the men odors" declares Isabelle to me.
It is a whole world of odours and perfumes that rocked her even since her youth.
More so, her family history. Isabelle belongs, actually, to the famous perfumers familly Gellé Frères, as they are distant cousins, called Gellé Dinnematin, established at Limoges. Despite evrything, she has been impregnated by this history all along her childhood. As a matter of fact, her father offerd her an oven to make candles, on which she used to put macerations of collected plants, when in New Caledonia !
Then, the chinese owners of the actual Gellé Frères brand will ask her to join the new adventure. But, their path differed, when the chinese owners decided to give priority to the chinese market, meaning they would alienate the Gellé heritage. One must remember that the Gellé brothers had bought JL Fargeon, Marie-Antoinette perfumer''s formulas. Until the year 1936, the brand known for numerous innovations  (hair, toothpaste) and the making of natural essences. It was popular among the artists of the time. Unfortunately, the Gellé formulas were destroyed in at fire at the factory.
During numerous years, Isabelle worked with luxury hotels groups before dedicating herself totally to perfumes, primarely to the natural perfumery.One can say she was then ahead of her time.
Isabelle does not  only create perfumes… She never travels without her camera, and has discovered the flamenco, another hobby. "And art with the essence of emotions" inderlines Isabelle. She is a true passionate who embarks us into her world.
The Perfumery Art School & Les Parfums d'Isabelle, today
Right from 2006, Isabelle creates les Parfums d'Isabelle, so to design perfumes, 100% natural, organic, and  with, no compromise. The first collection is launched with 6 fragrances, followed by "Time is Essence" made of 6 perfumes. This last collection is an invitation into an english garden, where a classic romantism prevails, with flowers  in  the  spotlight, such as the rose and the violet, the carnation the cherry flower… Later, she will  bring around her perfumers, ready follow   her into the Perfumers of the World adventure, by federating 100% natural perfumes of different cultures. In fact, she believes that each country has it's own story of perfume.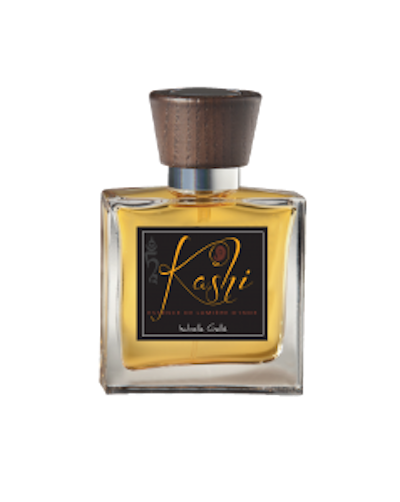 Besides that, she has created a school about the natural perfumery on the web. It was a project that took birth after a serie of conferences at the Imperial College, at the Kensington Palace and also at the London Transport Museum in London.
In view of the increasing  desire of the passionate wanting to improve their knowledge, Isabelle took up this challenge and offers two training courses, that are recognised as certified courses.
She admires
Christine Nagel, perfumer at Hermès, Isabelle doyen, independent perfumer
Her fragrances for the time beeing
Oud from Tom Ford and Nathalie Sweden
Karine Torrent "Floratropia"
Karine is born in a flacon or almost ! More precisely, she has lived in the Bresle valley, this famous region where so many lovely perfumery flacons were manufacted. More, friends of her parents worked either at Pochet du Courval, or at the glass-maker Brosse… It is without the numerous minitures she received. Nevertheless, one must not forget the aromatic plants of her grandmother' garden, in Corsica. As she mentions, Saint Exupéry used to compare this country to an « island of perfumes ».An  olfactive line that did pursue her up to town, when visiting  every week with her mother, who had important meetings : once there, she was rushing to all the perfumery shops or all the book-shops !
After a business school graduation and a Bachelor's degree in English, she very naturally did an internship at Guerlain. "I was there just like a child into a sweet shop.I used to read  and gleaned everything." says Karine.
Afterwards, she continued her path with « le Monde en Parfum » ; an Yves Rocher niche brand, with the objective to put forward the know-how of the perfumery, then Valentino (Puig group) where the perfume was not at the center of their concern and finally with the Atkinsons perfumes where  she had an incredible experience. During her career, Karine will be marked by two women Brigitte Bourny and Brigitte Wormser. The first one by her incredible knwledge of the ingredients and the other one for her capacity give freedom to her teams.
Besides her passion for odours and perfume, she  unwinds by the water front, and surfs on the waves. She has discovered this discipline, only lately, but a real epiphany for her, she admits. Modern dance is one her other escape. But all this, with also books from Marguerite Duras, Romain Gary…
Floratropia today
Right at the beginning, Karine decides to create good and beautiful fragrances. More, with bringing innovation, invent something else, and giving a second wind to perfumery. In order to achieve it, she will deconstruct each element, by coming back to the very source of the beauty of a fragrance. It will there  that the red line of the plants  will take form, by contributing to a special attention to the biodiversity. Furthermore, disengaging oneself from the petrochemistry, reducing the packaging, became an evidence. All in al,l a challenge to confront the heavy heritage of the traditional perfumery… That is to say, with an objective to link the know-how of the perfumer with the objective of the sustainable development.This was a fantastic challenge that  knew  how to take.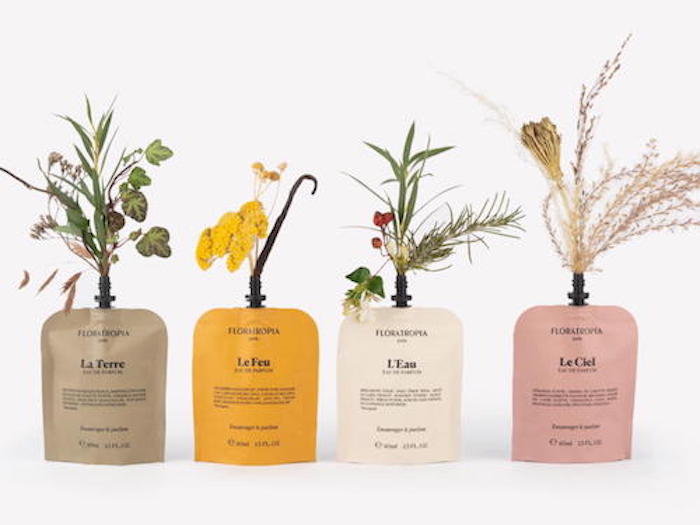 The decision was made that the Floratropia would  become100% natural, issued from the green chemistry, the upcycling and the biotechnology. Her creator in chief was to be Delphine Thierry, an independent perfumer from her laboratory "Inspiration Libre" along with a porfolio of ingredients from Robertet and manufacted by Jean Buis." As for the flacons, I chose refillable flacons. In this manner, we altered the environmental and economical equation. In one word, less packaging reduces waste and the carbone missions while rebalancing the hight cost of the natural perfume" explains Karine to me.
Today, the brand offers 4 fragrances, 4 stories of the natural elements that are water, fire, the earth  and the sky. Besides the nomad flacon, the brand offers vintage flacons. As it's founder says very rightly ; "I do not sell flacons,but a new art of living of the perfume with awareness and commitment, towards the living beings."
She admires
Germaine Cellier, perfumer at Roure, Olivia Giacobetti, perfumer at Iskia and creator of her own brand, IUNX and of course Delphine Thierry of Inspiration Libre.
Her perfume  
The next Floratropia fragrance which be around amber !  "I can't tell you more", declares Karine.
4 portraits of perfume women in the spotlight : it was a real pleasure for me to talk with theses ladies of the perfume. Many thanks to them to have conceded their time.